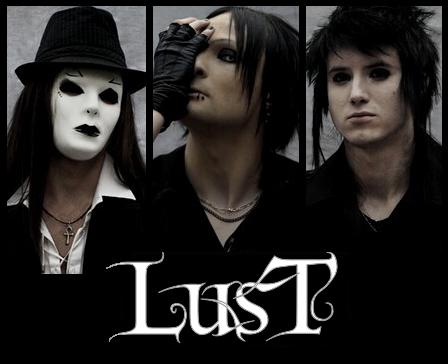 Berenice Vinsonneau
Genre
: Metal, Visual, Indus

Biography
:
A new group promising consisting of three musicians seriously decided to go as far as possible in their draft musical sense. All three with an appearance androgynous and extravagant cultivating an image its as well as shifted. The various musical influences of these three individuals for their have helped to link the nu metal, heavy metal and metal industrial with visual kei what characterizes the only style of their music. A universe hysterical, nostalgic and brutal with a touch of melody for a its own to themselves. A unions which addresses feelings delicate like madness, hatred, envy or the lust, or the name of this group, as well as topics this property every human being like love, fear and sadness thanks to a support musical, all of this inspired by various media artistic and cultural as the cinema the androgyn and the Asian culture . LusT promises to be heard and mark the minds to share their universe and their music through yourself.

Members
:
Hyden (Lead guitars)
Shinu (Vocal)
Zell (Guitar Rythm
Version française :
Spoiler:

Lust, un nouveau groupe prometteur constitué de trois musiciens sérieusement décidé à aller le plus loin possible dans leur projet de cariere musicale. Tous trois doté d'une apparence androgyne et extravagante cultivant une image mysterieuse ainsi que décalé. Les diverses influences musicales de ces trois individus leurs ont permis de lier le néo métal, le heavy et le métal industriel avec le visual kei ce qui caractérise le style unique de leur musique. Un univers hystérique, nostalgique et brutal avec une touche de mélodie pour un son propre à eux même. Un unions qui aborde des sentiments délicats comme la folie, la haine, l'envie ou la luxure, d'ou le nom de ce groupe, ainsi que des sujets consernant tout etre humain comme l'amour, la peur et la tristesse grâce a un support musical, tous cela inspiré par divers supports artistiques et culturelle comme le cinéma et la culture asiatique . LusT promet de se faire entendre et de marquer les esprits afin de faire partager leur univers et leur musique à travers vous même.