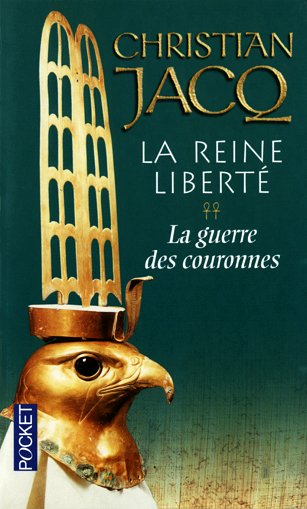 On behalf of hope and freedom!
Egypt is no longer ... Since the barbaric Hyksos broke on its territory and that they prevail in the north, in the Delta Avaris their wild hordes killing everything in their way, men, women, even children , not to mention the systematic destruction of temples, statues and tombs, where the gods spoke of glory, peace and hope. Only one city has not assigned, Thebes, thanks to the courage of a young princess, Ahotep who was able to convince those around her to resist. With very small means first, a secret military base, a few paltry weapons and a handful of people enthralled by its determination, the princess became Queen reconquered the surrounding villages. And then she got married, had two son, Kames and Amos. Unfortunately, during a particularly violent confrontation against the occupation, her husband the pharaoh Séqen was killed. Despite his pain, Ahotep is not giving up and preparing his eldest son, Kames, to exercise power. Kames, although new to the art of war, took up the torch from his father and drew around him new resistant to a number. Reconquering gaining momentum, while the south of Egypt was gradually released while, curiously, the Hyksos did not seem too concerned ... However, in the north is the horror. Apophis, the Hyksos emperor, no longer supports the slightest contradiction, and perform all those they suspect, rightly or wrongly, to betray. We can not wait. Spurred on by his mother, Kames and his army of rebels decided to attack ... After the occupation (in the empire of darkness), we have succeeded in the resistance ... But what will be the price ?
Version française :
Spoiler:

Au nom de l'espoir et de la liberté ! L'Égypte n'est plus… Depuis que les barbares Hyksos ont déferlé sur son territoire et qu'ils règnent au nord, à Avaris dans le Delta, leurs hordes sauvages massacrent tout sur leur passage, les hommes, les femmes, même les enfants, sans oublier de détruire systématiquement les temples, les statues et les tombes, là où les dieux parlaient de gloire, de paix et d'espérance. Une seule cité n'a pas cédé, Thèbes, grâce au courage d'une jeune princesse, Ahotep, qui a su convaincre son entourage de résister. Avec de très petits moyens d'abord, une base militaire secrète, quelques armes dérisoires et une poignée d'hommes subjugués par sa détermination, la princesse devenue reine a reconquis des villages alentour. Et puis elle s'est mariée, a eu deux fils, Kamès et Amosé. Hélas, lors d'un affrontement particulièrement violent contre l'occupant, son époux le pharaon Séqen a été tué. Malgré sa douleur, Ahotep ne renonce pas et prépare son fils aîné, Kamès, à exercer le pouvoir. Kamès, bien que débutant dans l'art de la guerre, reprend le flambeau de son père disparu et attire autour de lui de nouveaux résistants en nombre. La reconquête prend de l'ampleur, tout le sud de l'Égypte est peu à peu libéré alors que, curieusement, les Hyksos ne semblent pas trop s'inquiéter… En revanche, au nord c'est l'épouvante. Apophis, l'empereur des Hyksos, ne supporte plus la moindre contradiction et exécute tous ceux qu'ils soupçonnent à tort ou à raison de le trahir. On ne peut plus attendre. Sous l'impulsion de sa mère, Kamès et son armée de rebelles décident d'attaquer… Après l'occupation (dans L'Empire des ténèbres), nous voilà parvenus à la résistance… Mais à quel prix.