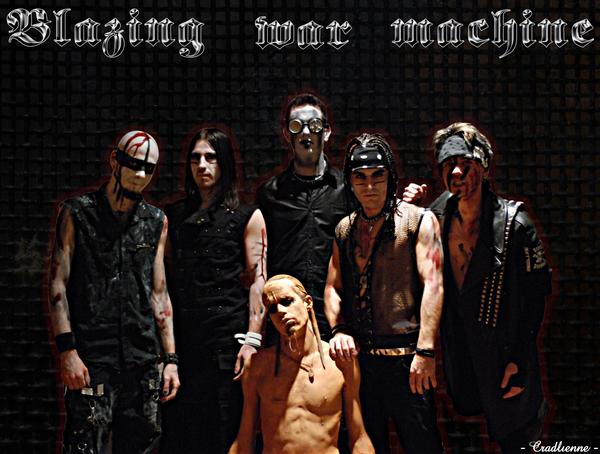 Genre
: Visual, Metal, black Metal
Biography
:
The history of BLAZING WAR MACHINE started in june 2005 with Franky (DAGOBA drummer) and Phil (UNEALTHY DREAMS keyboards), they decided to combine their influences (power and black metal) and mixed the best elements of these two different metal genres in order to create a new sound! The perfect mix between CRADLE OF FILTH , DIMMU BORGIR and STRAPPING YOUNG LAD , FEAR FACTORY and some other touches of HEAVY METAL and INDUS with a modern sound. The result is a SYNTHETIC POWER BLACK METAL ! They teamed up with IZAKAR from DAGOBA (Guitars), and after some different LINE UP, they completed the bandwith TYPHUS (Vocals), STRYCHNINE
(Bass Player) and FAB (Guitars).Early 2006 , they began to play LIVE with bands like GOJIRA, DESTINITY, BENIGHTED, THE OLD DEAD TREE, LOFOFORA, ETHS... and they recorded their first LIVE DEMO (called "HAUNTED MEMORIES"-DVD/CD format) in JANUARY 2006. To offer a real LIVE SHOW, the band is developing a VISUAL inspired by characters with MORBID CRAZINESS close to their DECADENT and FRENZIED music. In the first part of 2008, BLAZING WAR MACHINE done more and more concert and, as a consecration, they won the chance to play at HELLFEST 2008 (DIMMU BORGIR, MINISTRY, SLAYER ...). BLAZING WAR MACHINE is now searching for a record deal for their DEBUT ALBUM.
Members
:
FAB (guitar)
FRANKY (drums)
IZAKAR (guitar)
PHIL (keyboards)
STRYCHINE (bass)
TYPHUS (vocal)
Discography
:
HAUNTED MEMORIES (2007)
Version française :
Spoiler:

L'histoire de BLAZING WAR MACHINE a commencé en 2005 ; FRANKY (batteur du groupe Dagoba) et PHIL (ancien clavier de UNHEALTHY DREAMS), avaient depuis longtemps l'envie et le projet de combiner leurs influences (power et black métal) et de mélanger les meilleurs éléments de ces deux types de métal pour créer un nouveau son ! Le mélange parfait entre Cradle Of Filth, Dimmu Borgir et Strapping Young Lad, fear Factory ainsi que quelques touche de heavy metal et d'indus. Très vite, les premières idées naissent et le style musical se définit ! D'ailleurs, le tout premier riff de BLAZING WAR MACHINE fut le refrain de SWAMP (STAGNANT MEMORIES) (titre phare) avec une rythmique saccadée à la batterie et une mélodie malsaine au synthé ; ce morceau définit parfaitement l'identité du groupe. Après réflexion, BLAZING WAR MACHINE sera le nom du groupe : direct, massif, rentre dedans, très expressif et imagé à la fois ; il représente très bien les facettes principales de la musique : une machine de guerre animée par des flammes infernales… Par la suite, IZAKAR (guitariste de Dagoba), emballé par le projet, intègre le groupe à la guitare et les premiers titres sont près défendus sur scène. Après plusieurs changements de line up, le groupe se fixe fin 2006 avec TYPHUS au chant, STRYCHNINE à la basse et FAB à la seconde guitare. Début 2006, BLAZING WAR MACHINE commence à jouer en live avec des groupes tel que Gojira, Destinity, Benighted, The Old Dead Tree, Lofofora, Eyeless, Eths… En 2007, le groupe sort un DVD / CD Live (enregistrés à SALON en 2006) en guise de démo contenant 5 titres. Désireux de proposer un vrai SHOW en live le groupe c'est appliquer a proposer un VISUEL sans cesse en évolution avec comme base des personnages emprunts d'une folie morbide collant a leur musique décadente et frénétique. Début 2008, BLAZING WAR MACHINE a fait de plus en plus de concerts et le groupe a été consacré (grâce au tremplin Sin Cession) en jouant dans le plus grand festival français du genre : le HELLFEST (Dimmu Borgir, Ministry, Slayer …) BLAZING WAR MACHINE a consacré la dernière partie de l'année à la composition de leur premier album qui devrait voir le jour fin 2009.