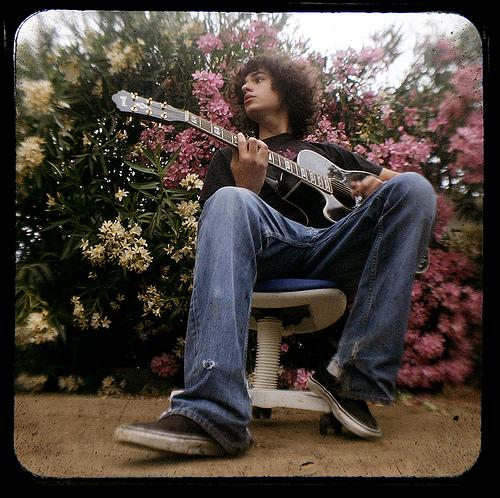 Connor
Genre
: Folk, Acoustic, Indie
Biography
:
Morgan Manifacier is a singer-songwritter who grew up in a little town of the south of France. He started the piano and the guitar when he was a little kid, learning by himself the beauty of music. Influenced by acoustic and indie music, he at first played the guitar and vocals in a french local band who gave him his first musical experience. After graduation from High School, he decided to go and study in California for a whole year. There, he and his guitar have won a place at the front of coffee shops throughout the Valley, where he wooed crowds in two languages with his soft, crooning voice, a sort of young, French Sondre Lerche.Morgan's first EP is called "The Seed Became a Tree", as he describes his transformation during the past year. He recorded all the songs at the Modesto Sound Studio in California, with the help of Travis Vick and Taylor Vick, two incredible artists.
Discograhpy
:
The Seed Became a Tree (2008) -
on Deezer
Version française :
Spoiler:

Morgan Manifacier est un chanteur / songwritter qui a grandit dans une petite ville du sud de la France. Il commença le piano et la guitare des sons plus jeune âge, apprenant de lui même la beauté de la musique. Influencé par la musique acoustique et indépendante, il fut le leader d'un groupe de musique dans la région d'Avignon, ce qui lui donna sa première expérience de scène. Apres avoir décrocheé son BAC, il décida de partir étudier un an en Californie. La bas, lui et sa guitare gagnèrent une place d'honneur dans les cafés de la vallée centrale californienne. Le premier EP de Morgan Manifacier s'intitule "The Seed Became a Tree", car c'est comme cela qu'il décrit sa transformation pendant cette année en Californie. Il enregistra tous les morceaux du CD au Modesto Sound Studio, avec l'aide de Travis et Taylor Vick, deux musiciens californiens. Apres avoir enchaîné plusieurs dates dans des salles parisiennes, Morgan Manifacier partira en tournée européenne avec l'artiste Travis Vick, accompagnés par le musicien Steven Werning.