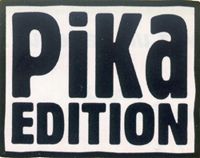 Activities
: Editor
Genre
: Manga, Manhwa, Manfra
Some words about
:
Pika Edition is a French publishing company that specializes in manga, born from the ashes of the publishing house Editions Media System. She specializes primarily in the works although some Japanese books are European. It classifies its manga in several collections: Shônen Pika, Pika Shôjo, Seinen Pika, Pika Kohai, Senpai and Pika Creation. It is headed by Alain Kahn since its inception. Pierre Valls is the editorial director. But beginning in 2007, Pika was bought by Hachette Livre.
Manga published by Pika
:
• Air Gear
• Chobits
• Fairy Tail
• Love Hina
• xxxHolic
•
List of manga published by Pika Edition
Manfra
:
○ Apprendre le Japonais grâce aux mangas
○ Catacombes
○ Dessinez votre manga
○ Dreamland
○ Vis-à-vis
Version française :
Spoiler:

Pika Édition est une société d'édition française spécialisée dans le manga, née des cendres de la maison d'édition Media System Editions. Elle se spécialise essentiellement dans les œuvres japonaises bien que quelques ouvrages soient européens. Elle classe ses manga selon plusieurs collections : Pika Shonen, Pika Shojo, Pika Seinen, Pika Kohai, Senpai et Pika Création. Elle est dirigée par Alain Kahn depuis sa création. Pierre Valls en est le directeur éditorial. Mais début 2007, Pika fut rachetée par Hachette Livre.
Official Web Site
-
Wiki