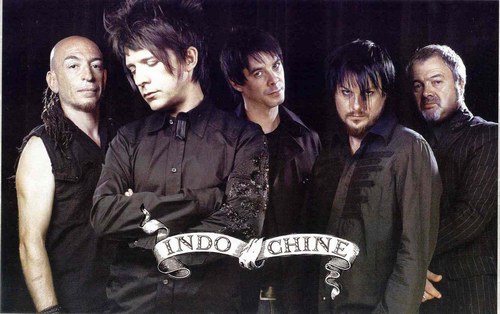 Genre
: French rock, New wave, Pop, Glam
Biography
:

Indochine
is an old rock French band that was born in 1981 by Nicola Sirkis and Dominique Nicolas. This band could grow up and also adapt with its time. For example, their words are a lot of more ambiguous, they talk about more sexuality since their album called "3". Many members belonged to this band, especially Nicola's twin Stéphane who died on september the 29th 1999. Today, Nicola is the only member of the original band. After a long missing, especially media one,
Indochine
comes back with his new album "Paradize" in 2002 and the song
J'ai demandé à la lune
. A renaissance can be said, indeed after some difficulties, the band could take energy back and, new electric sounds refresh their melodies that certain critics considered as old-fashioned. Still today,
Indochine
is one of bigger rock French band (if it isn't the biggest) who could get a huge audience in the world and who keens on moving us thanks to their wonderful songs and shows.
Members
:
Boris (guitar)
Mr. Eliard (bass)
Mr. Shoes (drums)
Nicola Sirkis (leader, vocal, guitar, harmonica)
Oli de Sat (keyboard, guitar)
Discography
:
L'Aventurier (1982) -
on Deezer
Le Péril jaune (1983)
-
on Deezer
3 (1985)
-
on Deezer
7000 danses (1987) -
on Deezer
Le baiser (1990) -
on Deezer
Un jour dans notre vie (1993) -
on Deezer
Wax (1996)
-
on Deezer
Dancetaria (1999) -
on Deezer
Paradize (2002) -
on Deezer
Alice & June (2005) -
on Deezer
La République des Meteors (2009) -
on Deezer
Version française :
Spoiler:

Indochine est un vieux groupe de rock français qui fut formé en 1981 par Nicola Sirkis et Dominique Nicolas. C'est un groupe qui a su évoluer et aussi s'adapter à son époque. Par exemple, c'est à partir de leur album "3" qu'apparaissent des textes beaucoup ambigus relatant notamment de sexualité. De nombreux membres firent partie du groupe dont notamment le frère jumeau de Nicola (Stéphane) qui décéda le 29 septembre 1999. Aujourd'hui,seul Nicola reste l'unique membre du groupe d'origine. Après une absence, surtout médiatique, Indochine refait son retour avec son nouvel album "Paradize" en 2002 et la chanson J'ai demandé à la lune. On peut parler d'une renaissance, en effet après quelques temps durs, le groupe a su reprendre des forces et de nouveaux sons électriques régénèrent ses mélodies dont certains critiques considéraient dépassés. Aujourd'hui encore, Indochine est un des plus grand groupe de rock français (si ce n'est le plus grand) qui a su se faire un très large public dans le monde et qui continue à nous émouvoir par ses merveilleuses chansons et concerts.